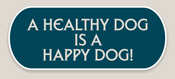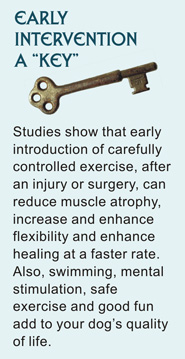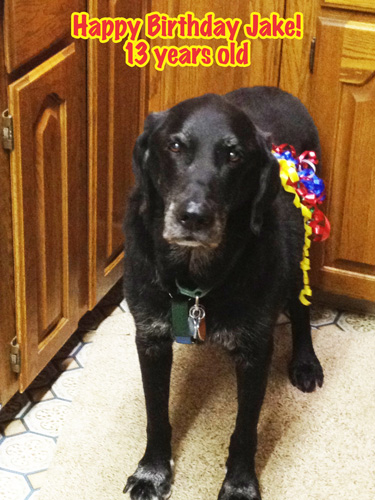 My husband and I adopted Jake 13 years ago as a rambunctious, willful, and unruly 8 month old pup. He turned our lives upside down in the most wonderful way with his nonstop exuberance and demands for interaction. He remained healthy and athletic through much of his life, until pain and arthritis hit hard, about 3 years ago.

Although I was familiar with the tremendous benefits of water therapy, I had never seriously considered it for Jake due to his lifelong TERROR of all water. He would become catatonic around small streams or ponds, NEVER swimming and barely wading. How could he even tolerate being in a therapy pool without extreme anxiety ?

But, I so desperately wanted to improve his happiness and comfort that I called Joni last year, introduced myself, and asked for her thoughts on my "water phobic" lab. We decided to try one session, with LOTS of goodies as incentive, and see how Jake reacted to this new experience....

He felt comfortable with Joni immediately, especially when he realized good food was involved. Although he was nervous when the water first flowed in to the tank, he never stopped eating. He did so well, walking and snacking the entire time in the warm water! He never trembled or balked, and he was so "jazzed up" afterwards !

Soon, we started driving to Joni's twice a week, and Jake would start whining/barking with excitement 15 miles before we arrived. Drove me nuts, but in such a good way.
Not only did he improve physically (moving more easily and comfortably), but his playful, teasing nature emerged again! He was so revitalized by the mental interaction with Joni and her staff - that's when the magic kicked in.

Watching him thrive with his new friends and increased mobility was such a joy, and pure FUN. These special times with my old boy brought us both great peace and happiness, and allowed his spirits to fly high again.

Although we "let Jake go" three months ago, I will always cherish the extra year we shared with him, thanks to Joni and all the positive energy that radiates from her. I still recall something she said to me during our very first conversation, when I was so apprehensive to even try water therapy for Jake. Joni said, "This could be the nicest thing you do for him".....and it was!

Sincerely,

Kate ~ Silver Valley, Idaho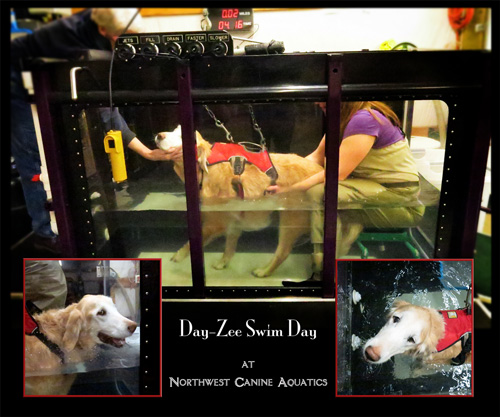 courtesy of "Paw Prints Photography"
Joni & Sara,
THANK YOU SO MUCH!
Wow! Day-Zee has so much energy. Eric said today's visit was amazing. I am so glad he had an opportunity to meet you. He was absolutely giddy telling me about your big back yard and how much fun Day-Zee had playing catch. Even the dreaded car ride she was a tail wagging and leaping into his rig...she never does that! (Fear of going to the vet). We are so excited to see the puppy in our Fluffy again!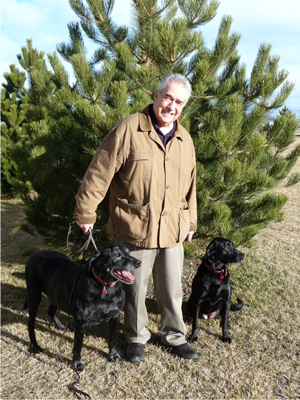 As an avid hunter for over 50 years and a member of Ducks Unlimited, I have been owned by many hunting dogs. I have found in the last couple of years that aquatics exercise has been profoundly beneficial to the training of my dogs and easing into retirement of my hurt and old dogs.

~Joe Asterino, Spokane, Washington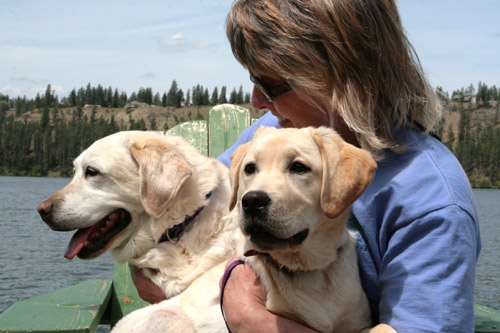 Joni Bories and her underwater treadmill came into my life soon after I took in a 4 ½ month old Labrador Retriever for foster care. Joey was recovering from a car accident where she sustained fractures of her pelvis, hip and leg, and needed vigorous exercise. Joni got into the tank with the puppy to help move her injured leg, and they became an awesome team! Joni also patiently showed me how to supplement the hydrotherapy by doing range of motion exercises at home. Now at 13 months of age, Joey is very strong, has a balanced musculature and is a happy girl! (Yes, that means that the "foster care" aspect somehow turned into "adopted as my very own.")
But that's just part of the story. I also have a 14 year old Lab, Kyla. Her knees have no cruciate ligaments (bone-on-bone), and she compensates for that by putting her weight on her front legs and paws, which have become arthritic. Walking had become so painful for her that I was shopping for a doggie stroller to enable her to continue our daily walks. Kyla began acupuncture treatments with Dr. Rosemarie Asterino which greatly benefits her overall health, and when Kyla started hydrotherapy in the underwater treadmill, her muscles became much stronger and more balanced. The result is so obvious that all my friends comment on how fabulous she looks and moves! I have to pay attention to keep up with Kyla on our daily walks because she hits the road at a fast pace! She moves freely, is playful, "dances" with me again, and loves to run in Joni's pasture. It is absolutely awesome!
To call me a believer in Joni Bories and the underwater treadmill would be putting it mildly. I have great admiration for Joni's knowledge, training, attitude, customer service, professionalism and, maybe most of all, her caring nature. She really loves helping dogs enjoy a better quality of life. I had to be sure that my girls get all the hydrotherapy they need!
~Sharon Yeoman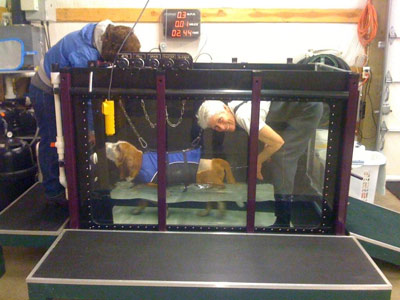 In Jan of 08 my Basset Hound (Dumper) spent 12 days at Washington State University after having major surgery on his back. I call him my $4,000 basset hound. I was told he had a 75% chance of a full recovery, they were correct. After surgery he could not walk correctly on his back feet. His feet would double under to his knuckles and he would drag them. I knew of a internet site that custom made a cart you could strap on the back of him with wheels on it. I made a appointment with my vet, Dr. Jerry Ponti to help me take the measurements needed to custom make the cart. Dr. Ponti strongly recommended not to do this. He said if Dumper was put into the cart he would never get out of it. Instead he took me over to meet Joni Bories of Northwest Canine who does physical therapy for dogs on a treadmill in a tank with water, which both Dr. Ponti and Joni highly recommended for Dumper. That was the beginning of Dumper being able to walk properly. This woman actually got into the tank with Dumper and physically held on to his back legs and made him walk on his pads correctly. I watched her do this for about 2½ weeks, Monday through Friday. I could not believe her! I am truly amazed at Dumpers progress in the 2½ months she had worked with him. He can go for short walks and even run. She has also shown me some exercises we do at home. After each session she always walked with us to the car and gave Dumper hugs and kisses and Dumper would just about wag his tail off, I cannot believe the bond that had developed between them. What a gal. I cannot recommend her enough for the magic she has done for my Basset Hound. She is the most caring and loving person of other people pet I have ever met. I have to agree with Dr. Ponti she is a very special person! The magic Joni did with Dumper was astounding and I cannot thank her enough. Oh, if Dumper did good that day in the tank he always got a doggy treat and he would give a bark of thank you...only once! 

Again Dumper and my thanks go to Joni of Northwest K9 and Dr. Jerry Ponti.
~Jim Stevens, Otis Orchards, Washington

My Newfoundland, Balou, was born with very bad hips. He never wanted to run or play.  When he was 1½, we had surgery done on one side. This helped a lot, but he still didn't run much. Balou started what I call his water aerobics class with Joni last fall. Within a month he was moving so much better. Then I started noticing that he would just run for no reason. He started to lose weight and feels so much better.
I can't say enough for this therapy and how great Joni is with animals. I know this will extend and also improve the quality of his life. I only wish she had this when he was younger.
If your pet is part of the family and you love them as much as we do, please consider this for them.
~Ann Sweet, Otis Orchard, Washington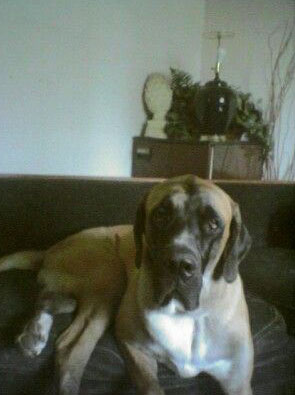 I met Joni when I was referred by my veterinarian for the best dog in the world.  Bill was my best friend and a 180 lb English Mastiff baby.  He desperately needed physical therapy due to a surgery attempt on his hip. While the surgery's outcome was less than perfect, what it DID do is bring me to a place where all dogs should stay, work, play and exercise.
While Bill became the love of many people's lives, he had a special love for Joni.  When we headed toward the car, he just KNEW we were going to go swim.  Bill was instrumental in assisting Joni to develop a program for the giant patient. I learned much from Joni.  Her heart is as big as it gets and without her, I would not have made many good friends or had a greater appreciation for the holistic health of my dogs.
Northwest Canine is the best place for canines and adults to learn what it truly means to be a pet owner. It is a spotless kennel. Joni and her staff are excellent.
Thanks Joni for a great place and for being an awesome friend.
~Cheri Howell, Coeur d'Alene, Idaho

When my then six-month old Aussie lab was diagnosed with bilateral hip dysplasia, I was devastated. I'd noticed something wrong with Lucy already--she did not have that usual "playful puppy" energy: she hesitated going up and down even the shortest of steps, bunny-hopped most of the time while running, and was always behind me, walking slowly, on a walk. Upon seeing a surgeon Dr. Joseph Harari, Veterinary Surgical Specialists, he recommended we try hydrotherapy with Joni. 
Honestly, I was quite skeptical at first, so I came and met with Joni and she showed me how hydrotherapy worked, and what to expect with my pup. I decided I would try it, and so Lucy and I have been faithfully going to hydrotherapy twice a week for seven months. Just a few weeks ago we went for a follow-up appointment with Dr. Harari, and he was quite impressed with her improvement. In fact, he even commented that if he didn't know Lucy had dysplasia, he wouldn't have guessed it from how she looks and acts today. I can sincerely say this has been the best way I could help my pup. Lucy acts more like a typical puppy now, at 1 1/2, than ever. She has tons of energy, is more confident, has a completely straight gait, rarely bunny-hops, and now she is pulling me on a leash--I can't keep up! Not only that, she has "typical" puppy behavior such as jumping up on the couch, chasing squirrels, scratching her ears, and chasing her tail--all simple for the "normal" dog but next to impossible for a dog with painful hip dysplasia. 

Through hydrotherapy, Joni has helped Lucy to strengthen her back legs, giving her more flexibility and energy. Joni is a professional and skilled at her craft; she is also so very compassionate and loving with Lucy. I wouldn't trust my pup to anyone else, and Lucy now looks forward to getting in the tank and working her legs, not mention seeing Joni. I can't say enough about how much Joni has helped my dog through hydrotherapy. 
Thanks, Joni!
~Leisa Wick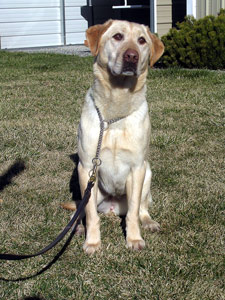 My oh My! I couldn't believe my eyes when I went to pick up Sasha. Of course I was excited to see her but I had no idea she would look so good and walk so well! Sasha tore her cruciate ligament and I put off surgery because I knew the recovery process would be long and hard. Well, it wasn't because a week after surgery she started aquatics with Joni. After touring Joni's facility I found myself wishing I had had such a recovery process when I had knee surgery! Sasha was in recovery for about a month and she is already putting full weight on that leg! Just looking at Sasha's coat and twinkle in her eye I know that Sasha got much more from Joni than the recovery of her injured leg. Joni is the best in every way. 
~Beverly Schoen, Mead, Washington